---
 The Khemit School of Ancient Mysticism is an open forum, with free membership, for all who wish to learn, teach, research and share about everything relating to Khemit (Egypt).  
  We offer a gathering place for those who wish to promote positive self-transformation, contribute to raising levels of awareness, and the integrity of our collective consciousness.
Combining the wisdom of ancient Khemit and the powerful energies of this Sacred Land  with our collective knowledge, abilities and talents, the Khemit School of Ancient Mysticism (KSAM) offers a space to experience profound life altering shifts.
Our Vision
  Personal and global transformation achieved peacefully in a safe and  open environment wherein everyone who participates can combine their collective energies, research, ideas and wisdom for the betterment of all.
---
---
                             Because Egyptology doesn't cover everything or offer valid explanations                                  or all that  we see andexperience at the sites in Egypt.  Abd'el Hakim Awyan,  world renowned Indigenous Egyptian   "Keeper of the Keys", developed the discipline of Khemitology, which offers an alternative, higher dimensional perspective of Egypt's heritage. Much evidence of glaring anomalies has been discovered throughout Egypt, which warrants our collective continued research of the legacy that a highly advanced civilization left behind more than 10,000 years ago.
---
Upcoming Events:
Next Available Wisdom Tours:
Tour Egypt! – October 2014:
 "Journey to the Center of Your Self"
   October 19th – October 29th
A Unique Spiritual Pilgrimage for Women that will include Lectures, Group Workshops, Site Visits, Meditation and Inner Healing, utilizing the Secrets of the Ancients
This Spiritual Adventure will focus on identification and release of core beliefs that  no longer serve us, in order to create a space for new unlimited possibilities – as your host and Speaker, Patricia Awyan, unveils Secrets within the ancient Symbolism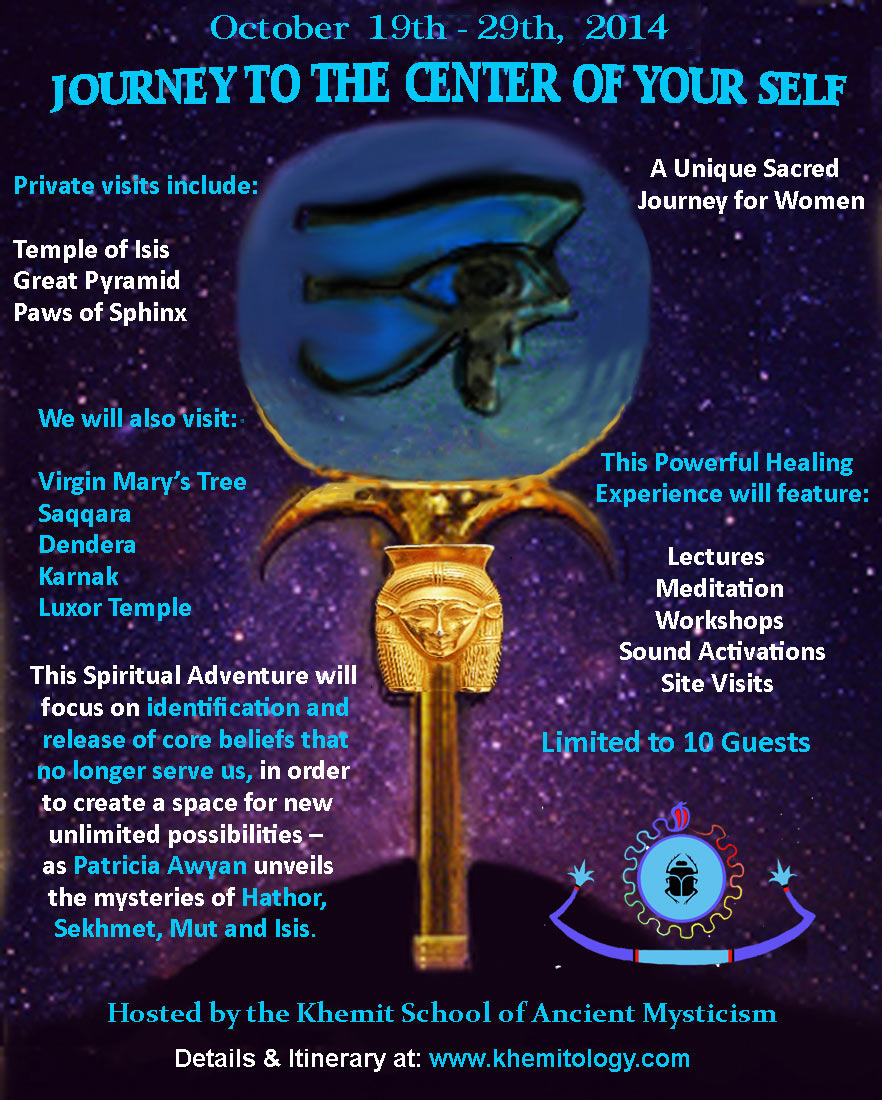 We will visit Virgin Mary's Tree, the Healing Hospital at Saqqara, Dendera, Karnak, Luxor Temple, a Private Midnight Visit to the Temple of Isis at Philae.  We will provide a sacred space for group work and meditation at the sites and in natural locations. The finale will include a  Surprise Site Visit—and Private Visits Between the Paws of the Sphinx and the King's Chamber.
For details and pricing please: Click here
Tour Egypt! – November 2014
   with 

Spiritual

 Quest Journeys 

 November 8th – 19th
  

 "

Egypt- Alchemy and Divine Magick"
 Featuring Special Guest Speaker Charlotte Szivak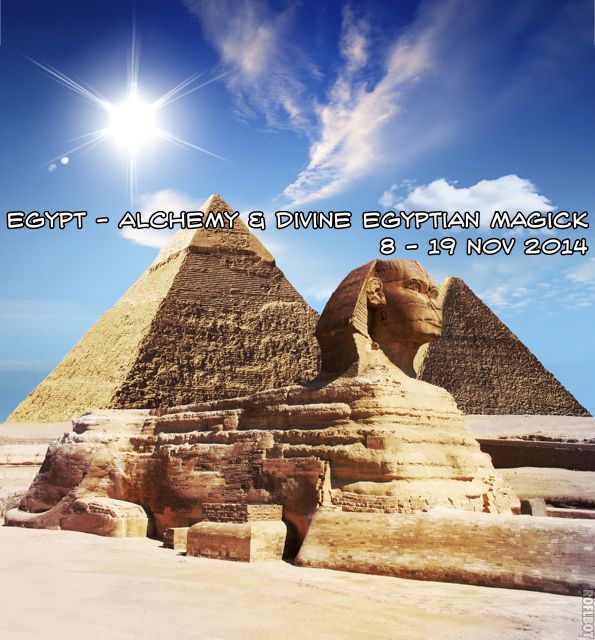 For details and information: http://www.spiritualquestjourneys.com/choose-a-journey/trips-at-a-glance/ancient-egyptian-wisdom-and-mysticism/
January 4th- 16th, 2015
"The Wonders of Ancient Egypt – Rethinking the Paradigm Tour"
Explore the Mysticism and the Deep Antiquity of the Sites
Featuring Dr. Robert Schoch, Gary Evans. Yousef & Patricia Awyan,
and Mohamed Ibrahim as our Egyptologist Tour Guide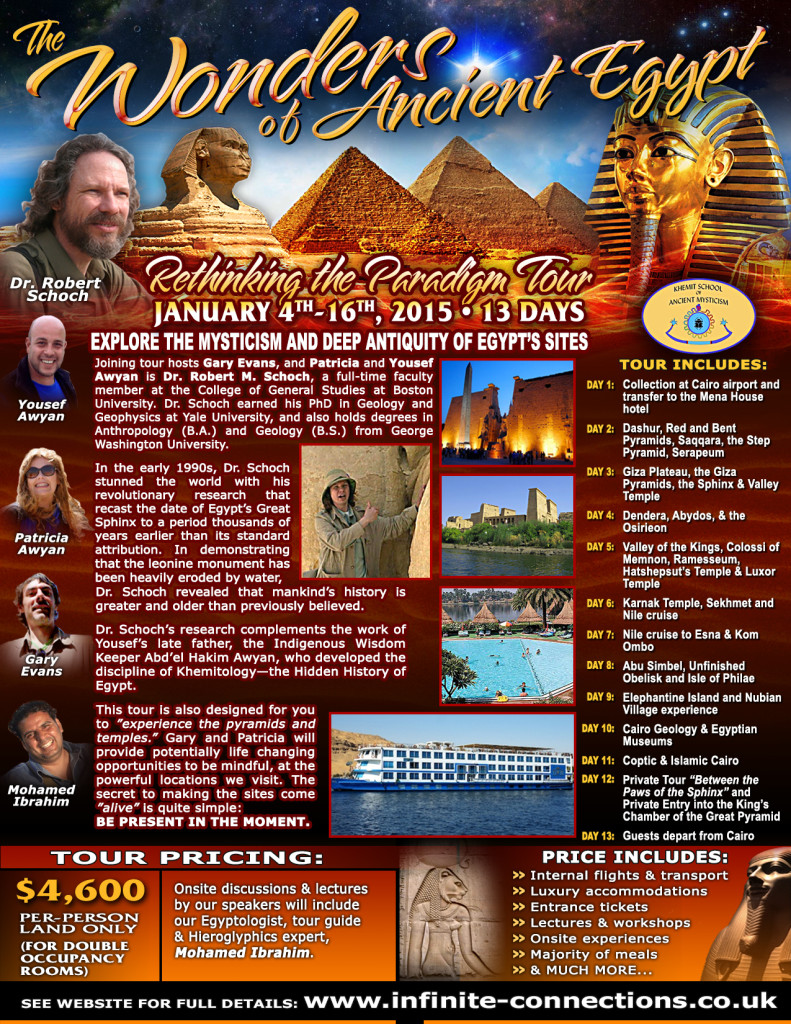 For Details and itinerary  CLICK HERE!
Egypt Tour – February 2nd – 14th, 2015
As Above, So Below
Wisdom Mirrored – Egypt & Australia
Join Special Guest Speakers, Uncle Doug Williams, Stella Wheildon & Sonya van Gelder along with Yousef & Patricia Awyan and Mohamed Ibrahim on a powerful adventure and exploration of the mysterious connections between Ancient Egypt and Australia.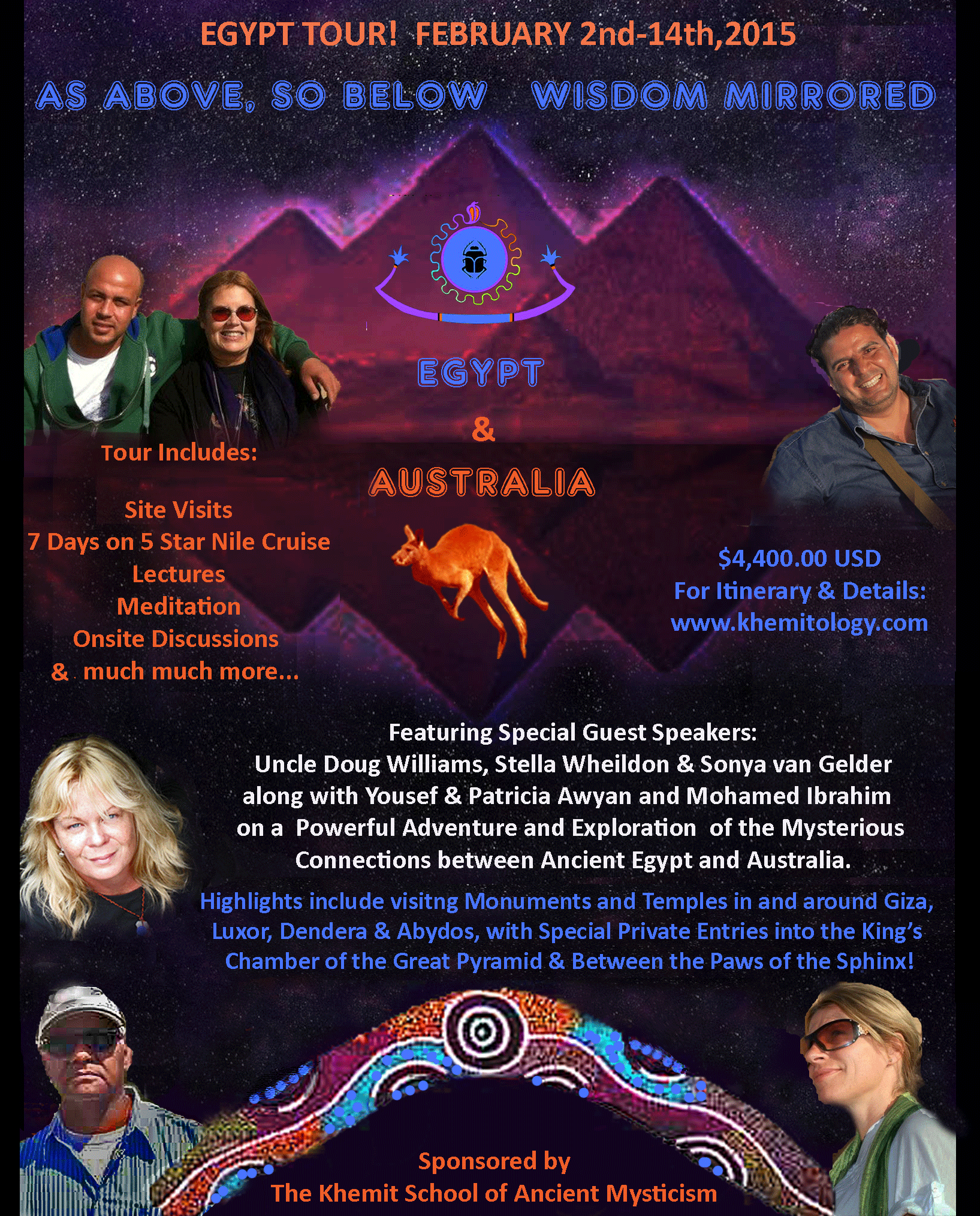 This incredible February adventure will feature an in depth exploration of the connections between Ancient Egypt and Australia. Did Ancient Egyptians did visit Australia? What was the impact on both cultures and what are the implications for us today?  We will explore the answers to these questions and more as we compare the secrets hidden in the ancient symbolism, mythologies and lore.
 For Details and itinerary  CLICK HERE!
Egypt "Techno–Spiritual" Tour III
     March 8th  – March 21st, 2015
           

The Experts from Egypt and Peru meet in Egypt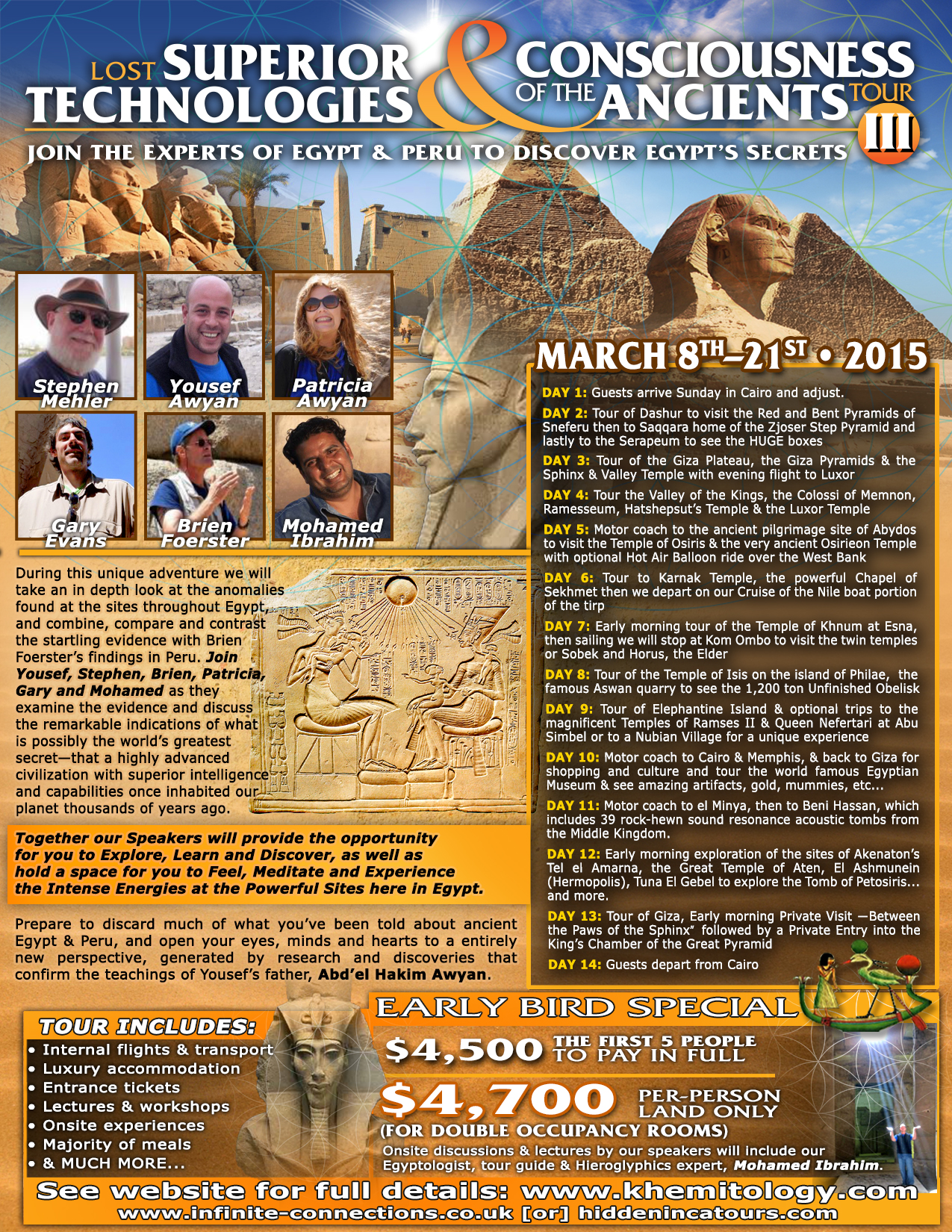 Hosted by Yousef & Patricia Awyan of the Khemit School
Featuring Guest Speakers 

Stephen Mehler, Brien Foerster,

 and 

Gary Evans
along with our Egyptologist, Tour Guide, 

Mohamed Ibrahim
 For Details and itinerary  CLICK HERE!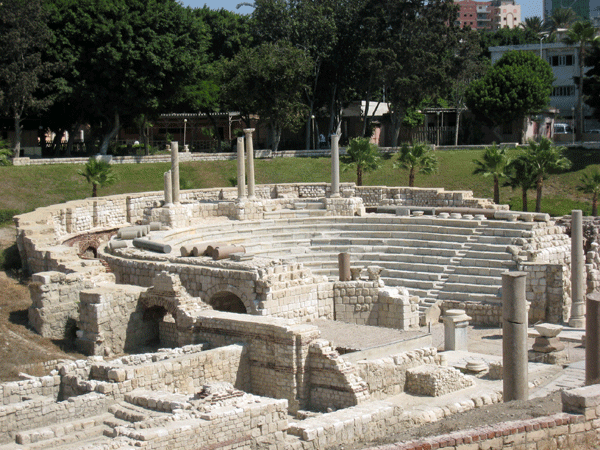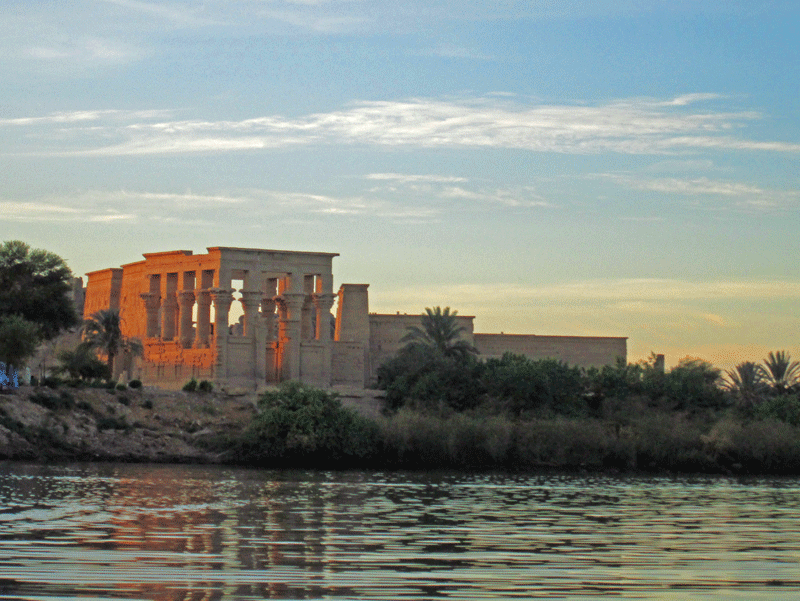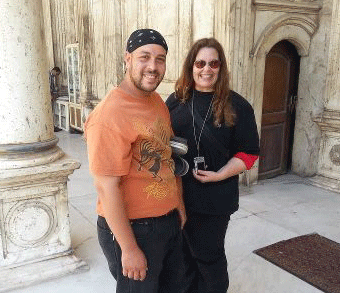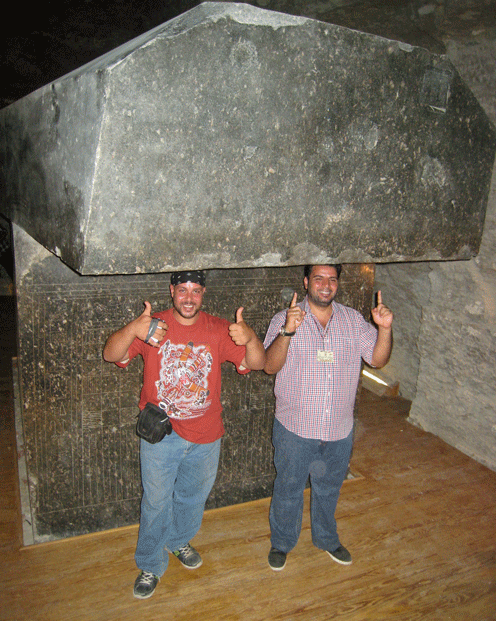 Please contact Patricia at info@khemitology.com for any information regarding Khemitology, upcoming tours, and/or your independent travel needs in and around Cairo and Alexandria .
For Information on all of our unique upcoming Wisdom Journeys, please visit our

Travel Page